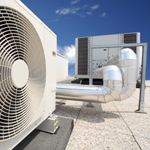 We have designed and implemented a special program for our commercial customers.
It has been so beneficial that our current clients are receiving a 40-60 percent annual savings on their repair expenses. Our field specialists, who are the best in the business, service all manufacture brands and all types of equipment.
Our response team is so reliable that you will not have to worry about your HVAC equipment ever again. We are available 24-hours a day/7-days a week.
Below, is a list of some our satisfied customers who have taken advantage of our savings program.
Columbia Bank
Wendy's Restaurants
Levin Management
The Jemstone Group
H&R Block
Grainger Supply
We are so pleased and confident in our program that we will be more then happy to provide you with any live customer referrals that you choose. Please contact us at anytime for more details and start saving today.
Heating and Cooling
We are experienced in the installation and servicing of all types of commercial HVAC equipment, including:
Rooftop Units
Split Systems
Boilers
Chillers
VAV Systems
Temp Control Systems
Exhaust and supply fans
Make-up Air Units
Clean Rooms