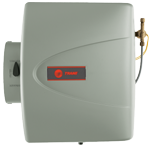 Humidifiers work in tandem with your heating system to deliver desired humidity levels throughout your home. Maintaining proper humidity levels in your home is essential to maintaining indoor comfort during the winter months. Moderate humidity levels make you feel warmer at lower temperatures, which means you can set your thermostat lower without sacrificing comfort.

Depending on the size of your home, we offer a variety of humidifiers to deliver the right amount of moisture into the air. Sizing of humidifiers is measured in Gallons Per Day (GPD), and we offer models from 12 GPD to 18 GPD.
---
Aprilaire Model 500 Whole-House Humidifier
The Aprilaire Model 500 Whole-House Humidifier features a built-in bypass damper and is designed for use in small to mid-size homes with automatic digital control for premium performance and convenience.
Installed in central heating and cooling system ductwork
Comes equipped with a drain to flush minerals from the unit
Has an evaporation capacity of 0.50 gallons per hour
Humidifies tightly-constructed homes up to 3,000 square feet in size
Aprilaire Model 700 Whole-House Humidifier
The Aprilaire Model 700 Whole-House Humidifier features truly automatic control, so there's never a need to manually control the humidifier -- though it can be installed in manual mode, if desired.
Utilizes an outdoor temperature sensor for monitoring even the slightest changes in outdoor temperature
Delivers up to 50% more moisture in comparison to competitive units
Has an evaporation capacity of 0.75 gallons per hour -- among the highest capacity humidifiers sold
Humidifies tightly-constructed homes up to 4,200 square feet in size
---
Steam Humidifiers
TrueSTEAM™ Humidification System
Moisture on Demand -- TrueSTEAM™ works by producing its own steam independent of equipment operation, so your home gets moisture when you need it most.
Eco-Friendly -- TrueSTEAM™ is the most eco-friendly way to humidify your home, because for every 1 gallon of water used, 1 gallon of humidification is produced.
"True Steam" -- While other humidifiers rely on moisture-filled pads that can be susceptible to bacteria growth in the water and the airstream, TrueSTEAM™ delivers "true steam" -- the cleanest form of humidification.
Out of Sight, Out of Mind -- TrueSTEAM™ is installed out-of-sight by your heating and cooling professional into your home's central heating and cooling system. You can forget about having to fill clunky, portable units, because TrueSTEAM™ automatically fills itself.
Whole-House Solution -- Installs directly or remotely to your furnace to deliver moisture throughout your entire home.
Minimal Maintenance -- Simply clean once a year with soap and water and the rest of the time it cleans itself automatically.
5-Year Warranty
Humidification Product Offering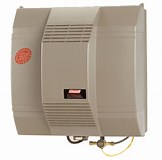 Echelon™ Series Whole-Home Fan Powered Humidifier
View Brochure
Model Family: S1-FP******
Capacity: 18 Gallons per Day
Sound Level: Quiet operation
Warranty: 5-year limited warranty
Manufacturer's Stated Benefits:
Wards off bacteria, viruses and fungi while reducing allergic and asthmatic reactions by maintaining proper humidity levels.
Built in fan provides air improvement across the water panel and into the conditioned air.
Keeps you feeling warmer at a lower thermostat setting.
Just three degrees off the thermostat yields about 5% off your bill.
Runs efficiently with built-in fan.
Extremely low maintenance.
Keeps running with built-in fan designed for long-life.